EMOTIVE
2016 - 2019
EMOTIVE is an EU-funded H2020 Research and Innovation Action project investigating the use of emotional storytelling to dramatically change how we experience heritage sites.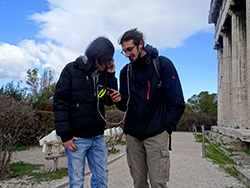 The EMOTIVE project runs for three years and involves a series of technology and cultural partners. I serve as the project's User Manager. My involvement has been significant from the early stages of conceptualization (as initiator of the basic concept, in the formation of the consortium, and in co-writing the proposal).
The first iteration of EMOTIVE storytelling experiences was released and tested, using mobile phones, in December 2016 at the archeological site of the Ancient Agora in Athens, Greece. Subsequent experiences have been created and are being evaluated for the UNESCO World Heritage archeological sites of Çatalhöyük in Turkey and the Antonine Wall in Scotland.
Tags: UX Design, Museums & Culture, Research, Virtual Reality